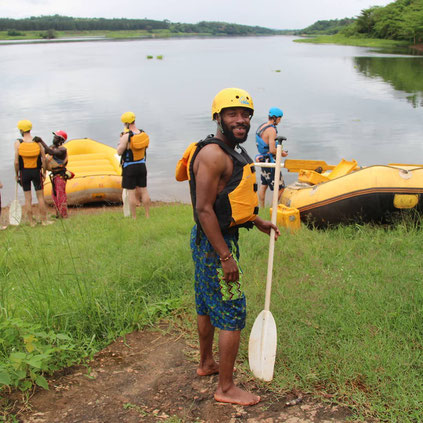 Murchison Falls National Park
" A lonely zebra or a loser buffalo who has been kicked out of a herd in the wild is better off than being caged in a zoo"
This massive national park located in the Masindi region is home to the famed Rabonga forest, the Nile river and a lot of wild life.
 Game drives are offered for visitors through the vast savannah, where it is a home for wildlife includes hippos, chimps, lions, crocodiles, birds, zebras, warthogs on a visit to this beautiful and amazing park.
Visitors can take a boat cruise along the Nile and get up close to the Uhuru falls, bathing elephants, water buffalos and the hippos.
There a couple of lodges and camp sites scattered through the park. There a couple of tour agencies organising a whole package tours (transportation, activities and accommodation).
Lake Bunyonyi
Visitors could also explore the mountains and lake region of Bunyonyi either by hiking or cycling in the south western Uganda. The region is also known as a place of little birds. The region offers a great variety of East African birds.
Other activities include canoeing and boat riding or involve themselves in cultural or community activities. Visitors could also undertake a Gorilla trekking safari. There are couple of tour agencies organising such trips.
It is one of the few recommended lakes in Africa that is rumoured to be free from bilharzia and safe for swimming.
Jinja
Jinja is a town in southern Uganda, on the shore of Lake Victoria.  In this town is the source of the Nile.
The Nile provides an opportunity for visitors to do a lot of water sport. This includes tubing, kayaking, canoeing and rafting. The rapids on the Nile makes it an adventure for tourist who wants to raft. It is really amazing.
Sipi Falls
This amazing series of three water falls in Eastern Ugandan town of Sipi. The waterfalls lie on the edge of Mount Elgon National Park near the Kenyan boarder.
Visitors could do hiking tours to the top of Mount Elgon and also to have a better view of the waterfalls or visit coffee plantations to learn how coffee is harvested, processed and roasted.
Other activities include bird watching and mountain biking through the community of Sipi.