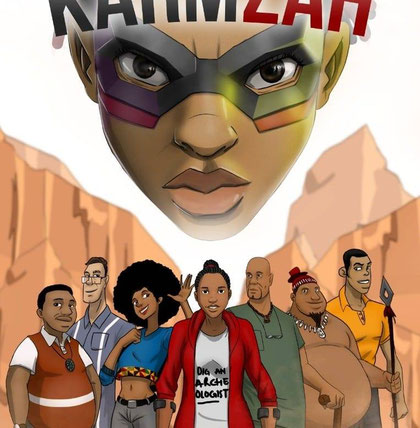 A new comic Karmzah, designed to inform the public especially children about cerebral palsy was launched in Accra and on Facebook live as part of activities to mark the second cerebral palsy awareness campaign in Ghana.
Karmzah, a young girl living with cerebral palsy plays the role of a superheroine fighting bad people and rescuing her society from evil. Her story changes the narrative where persons with disabilities are portrayed as helpless victims who needs to be helped or rescued by their able-bodied counterparts.
Her story is aimed at disabusing societies perceptions on disabilities to rather see capabilities and strengths of people living with disabilities. Karmzah uses walking aids and is empowered through them. If she loses a hold of her crutches, she reverts to her ordinary self and can no longer fight, run or fly as she does with her superpowers.
Karmzah is a comic animation for children especially children living with cerebral palsy can relate, educated and be entertained. Cerebral palsy (CP) is a neurological disorder that affects a child's movement, motor skills, and muscle tone. In most cases, cerebral palsy is caused by brain damage that develops while the baby is still in utero or during or shortly after birth.
This lifelong disability affects around 17 million people throughout the world. At this time there is no known cure. It is a complex disability that can vary in effect from one individual to another with symptoms ranging from weakness in one hand to a complete lack of voluntary movement throughout the body.
Karmzah was written by Ms Farida Bedwei, an activist, a person living with cerebral palsy and a Tech Entrepreneur, created in collaboration with Leti Arts, a video games and comic developer in Ghana. Karmzah will be available online on the Afrocomix App on Google Play store by the end of the October 2018.